WALL GAMES
Coin-operated | Remote-controlled | Wall-mounted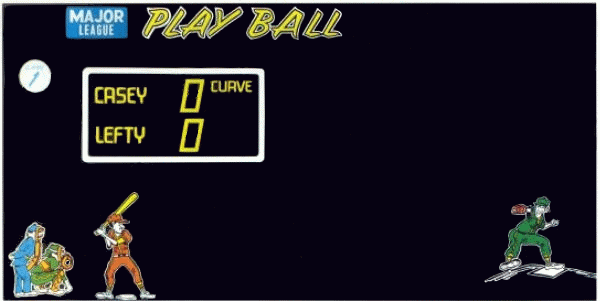 1970's Gremlin Industries Incorporated "Play Ball"
This Website is dedicated to those coin-operated wall-mounted games which are operated by remote control boxes. These games were popular in taverns, pizza parlors and game rooms during the mid- to late-1970s. Some were manufactured as recently as 1996. For a little more background, check out this Introduction to Wall Games page.
This web page requires java in order to view hyperlink buttons. If you cannot see the buttons below, go here and update your java engine (requires Windows 98 or higher, also available for Macs and Linux).
A little background on Wall Game manufacturers:
Reference List of Known Wall Games
Some of these games are still on location and being played. We want to know where they are! A list is being prepared for inclusion in this web site. If you can offer any information, send an email to
bob@wallgames.com
September 29, 2011 - It's not a wall game, but Bally/Midway's Big Bat Baseball arcade game now has a repair page.
November 6, 2010 - Replacing CES wall game transmitters and receivers added.
August 2, 2010 - Wall Game Repair Services Page added.
May 6, 2010 - Added 2 more games from Astrotronics (also known as U.S. Astrotron) - Juan y Pedro, and Look-out Linda,
February 16, 2010 - We would like to compile of list of technicians who repair wall games. If you're skilled at repairing one or more games, please email us at bob@wallgames.com, and we'll publish your name on this website.
October 29, 2007 - In an effort to defray operating costs, Google ads have been added to the wallgames.com website. Is it profitable? Three days and one click later, they have earned twenty-two cents.
May 8, 2006 - New game added - Meadows Games, Inc. "Grassland Hunter"
November 28, 2005 - Joe Smith has provided us information and photographs of a previously unknown game, Computer Logic, Inc.'s Intrigue Baseball.
November 12, 2004 - *Breaking News* -I have been contacted by the former VP of Engineering and former President of Gremlin Industries. They have related some really interesting information on the history of the company and its games. More details have been added to the Gremlin Industries page!
October 25, 2004 - "General Wall Game Repair Tips" added.
October 25, 2004 - We are searching for anyone ever involved in the design and production of wall games, including former employees of Gremlin, Sunbird, Midway, PMC, ESP, Hal Computer, CES, Century Industries, Astrotronics, and all the other manufacturers and distributors of these games. Please contact bob@wallgames.com.
September 30, 2004 - A visit to the CES factory. Read the details here.
September 7, 2004 - "Where to Buy Wall Games" page added.
April 8, 2004 Another wall game discovered - Casey's Electronics Inc.'s "Black Jack". This is the first known card game-themed game.
March 15, 2004 Attention Trapshoot Fans! Shane Monroe unveiled the ultimate Gremlin Trapshoot web site, complete with photos, actual video, and (coming soon) an actual simulation. Visit Shane's web site at http://www.monroeworld.com/trapshoot
February 7, 2004 Information is discovered that indicates Atari produced a wall game in 1979. Atari is added to the web site for their wall game "UFO".
June 25, 2003 Wow! I came across information on more wall games!
Nine new games and six new manufacturers added to
the Reference List of Known Wall Games